Comfortplast Cages are computer designed and manufactured with long lasting high quality material. Mesh structure is manufactured with full
Polypropylene (PP)
plastic material and no need for fixing materials to assembly.
ComfortPLAST Series Partridge Stock Cages have been designed considering every detail for your partridges welfare and health.
Cimuka's Modular Cage System offers partridge producers the outstanding production performance , best possible hygiene, easily enriched, great shipping simplicity, easy assembly and plenty of spare parts, easy repair.
Partridge Breeding Stock housing rootstock are designed to easily feed and supply water to partridges and also obtain high quality fertilised egg. Partridges are placed to have 1 male and 2/3 females in each section separated from the other Partridges. Thanks to the slope of the housing floor the Partridge eggs are rolled forward and the eggs are collected at the front of the cage teeth.
Professional game bird breeders
, according to
Gamebirds Codes of Practice
Chapter 6 in the draft Code, on the housing of breeding pheasants and partridges
, for those farmers and breeders who do not want to
risk their bussiness
we just the perfect housing for partridges.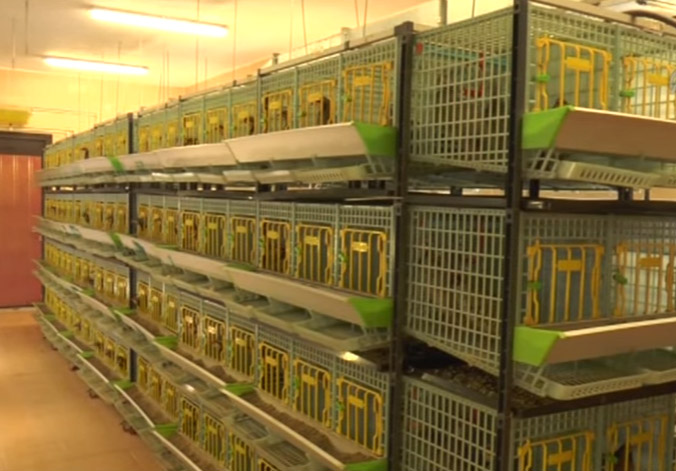 Capacity
Partridge breeding stock housing capacity to hold 36-48 Partridge,
Key Features
World's first patented design,
Manure resistant plastic,
Long product life,
Rust proof system,
Innovative feeder grill design minimizes feed loss and gives up to 30% feed saving
Plastic manure tray,
Partitions between male Partridges are closed to prevent them fighting,
Each tier has 3 divisions, each division is ideally designed for 1 male 2/3 females,

Water tank:

20 liter,
Suitable for use to pass onto a multi - story design,
Innovative elliptic floor design provides more comfort in 1 or 2 leg stand position,
Elliptic floor for better welfare, minimises foot injury,
With the elliptical and flexible base design, the fertility rate is very high,
Correct floor slope for partridge egg and the egg breakage rate is very low,
Automatic nipple with water dropper system to prevent quails from getting wet,
More Features
Large doors,
Enhanced door lock system,
Locked wheel system,
Adhesive-free irrigation installation,
Filtered water tank, special black silicone hose to prevent algae,
Product comes unassembled,
Directions included for easy assembly,
Dimensions & Weight
Product Block Dimensions :

L(96cm) x W(63cm) x H(220cm)

Product Inner Dimensions for one layer:

L(90cm) x W(40cm) x H(34cm front and 19cm back of the cage)

Box Size:

L(97cm) x W(60cm) x H(35cm)

Weight:

42kg
Measurements Per Level